DAC-X3 – Digital to Analog Converter
If you are currently looking for an economical DAC, without neglecting the technical qualities, do not look any further!
Do not hesitate any longer, invest in a quality DAC today!
The DAC-X3 is a very versatile device:
DAC: Digital to Analog Converter
Headphone Amplifier
Preamplifier
It has many inputs to be comfortable in all configurations.

This excellent famous headphone AMP NE5532, 32-300Ω, will let you hear something in your music that you never have heard before.

Convenient potentiometer volume controller.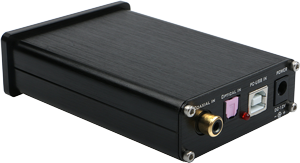 The fact that it can be connected via USB allows you to use this amplifier as an external sound card for your computer regardless of operating system: Windows , MAC OS or Linux.
Input: USB, S/PDIF (Coaxial and Toslink Optical
Power Supply : DC 12V 1AOptional
Its ultra-modern DAC allows you to manage 16bit/48kHz sources directly via USB and 24bit/192kHz via SPDIF/Coaxial inputs.
---
Properties

DAC-X3
DAC-X6
DAC-X7
Channels
2 (2.0 – Stereo)
2 (2.0 – Stereo)
2 (2.0 – Stereo)
Interface Input
PC-USB, Optical, Coaxial
PC-USB, Optical, Coaxial
PC-USB, Optical, Coaxial, Micro USB, AUX
Interface Output
RCA, 3.5mm Headphone
RCA, 6.35mm Headphone
RCA, 3.5 & 6.35mm Headphone
Output Power Speaker
25mw/150Ω, 75mw/64Ω, 150mw/32Ω, 300mw/16Ω
90mw/600Ω, 180mw/300Ω, 450mw/100Ω, 610mw/62Ω, 910mw/32Ω, 1000mw/16Ω
To be announced
Output Power Headphone
120 mW
200 mW
120 mW
Sampling Rate
USB: 16 bit/48 kHz
USB: 16 bit/192 kHz, 24 bit/96 kHz
USB: 32 bit/384 kHz
Coaxial/Optical: 24 bit/192 kHz
Coaxial/Optical: 24 bit/192 kHz
Coaxial/Optical: 24 bit/192 kHz
Frequency Response
20Hz~20kHz
20Hz~20kHz
To be announced
SNR*
≥96 dB
≥105 dB
≥115 dB
THD*
≤0.001%
≤0.001%
≤0.013%
Impedance
16-64 Ω
32-600 Ω
16-300 Ω
Chipset
CM108 + CS4344 + CS8416 + NE5532
CS8416 + CS4398 + VT1630 + TPA6120 + OPA2134 + OP275
XMOS + AK4490 + TPA6120 + AK4118 + OPA2604
DAC Interface
CS8416 + CS4344
CS8416 + CS4398
AK4490
USB Interface
CM108 16 bit/48 kHz
VT1630
XMOS
Headphone Amplifier
NE5532
TPA6120
TPA6120
Signal Amplifier
NE5532
TPA6120
OPA2604
Operation
Front Panel Control
Front Panel Control
Front Panel Control
Power Supply
DC 12V 1A
DC 12V 1A
DC 12V 1A
Color
Black
Black / Silver (Optional)
Black / Silver (Optional)
Unit Size
106 x 70 x 25 mm
150 x 95 x 32 mm
168 x 130 x 30 mm
Unit Weight
500 gram
800 gram
1.5 kg
Packing List
1 x DAC
1 x DAC
1 x DAC
1 x Power Supply (Optional)
1 x Power Supply (Optional)
1 x Power Supply (Optional)
Logos
*Abbreviations:
N/A: Not Applicable
SNR: Signal-to-Noise Ratio
THD: Total Harmonic Distortion
Information